Trans-Siberian Orchestra's 'The Ghosts of Christmas Eve'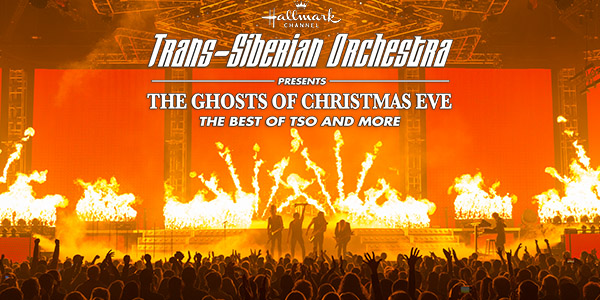 Event date:
Saturday, December 2, 2017, 3 pm
Saturday, December 2, 2017, 8 pm
Over the past 20-plus years, Trans-Siberian Orchestra has become a critically-acclaimed, multi-platinum, musical powerhouse, and its annual winter tours a beloved, multi-generational holiday tradition. 2017's tour, a completely updated presentation of TSO's unforgettable "The Ghosts of Christmas Eve," will be a celebration of the art and accomplishments of the lauded group's late creator/composer/lyricist, Paul O'Neill, and his inimitable creation, which he dubbed "Rock Theater."
Tickets
Purchase tickets through Ticketmaster
Important Day of Show Information
Both Trans-Siberian Orchestra performances are reaching sold-out capacities. To avoid traffic congestion and delays, please plan to arrive early and carpool if possible. Due to the holiday season, traffic is heavier because of the nearby mall and holiday shoppers.
Please also be aware that there could be increased traffic congestion in our parking lots between performances as patrons are exiting the 3:00 p.m. performance and arriving for the 8:00 p.m. performance.
In addition, security measures will be enhanced. All patrons will enter the venue by walking through metal detectors. Purses are permitted; however, they are subject to search. We ask that fans plan accordingly and allow enough time to arrive early as entry times may be longer than normal.
Doors
Doors are scheduled to open approximately 90 minutes prior to each show.
Camera policy
Photography is restricted to non-professional point & shoot style cameras from your assigned seat. VIDEO AND FLASH PHOTOGRAPHY IS STRICTLY PROHIBITED.
Seating charts
Price break down map - 3:00 p.m. performance (PDF)