Chris Tomlin presents Worship Night in America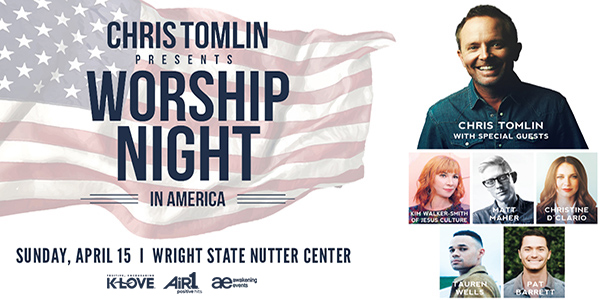 Event date:
Sunday, April 15, 2018, 7 pm
GRAMMY® winner Chris Tomlin continues to bring the church together in unity and prayer with his Worship Night in America tour, featuring Chris Tomlin with special guests Kim Walker-Smith of Jesus Culture, Matt Maher, Christine D'Clario, Tauren Wells, and Pat Barrett.
"It is powerful when all streams of the church come together in an act of unity to worship and pray...that's the heart behind 2018's 'WNIA Tour.' It's a picture of God's kingdom together, and the sound of thousands and thousands of voices pouring out His praise," says Tomlin. "I pray these nights are filled with revival and restoration as we all join together proclaiming one name. As the scriptures say, 'Lord I have heard of Your fame, I stand in awe of Your deeds…renew them in our day.'"
Last fall, Tomlin became the first Christian artist to receive the SoundExchange Digital Radio Award, recognizing more than 1 billion digital radio plays. Following this success, Tomlin filled the iconic Red Rocks Amphitheatre for back-to-back nights this past September as the first ever CCM artist to play the historic venue two nights in a row.
Tickets
Purchase tickets online through Ticketmaster
Prices*: $15.00, $28.75, $38.75, $49.75, $69.75, $89.75
$129.75 - VIP package includes Premium Reserved Pit Seat, VIP Gift Bag & Early Entry at Exclusive VIP Entrance
*Prices subject to change at any time.
Seating chart
Doors
5:30 p.m.