Harlem Globetrotters: The Spread Game Tour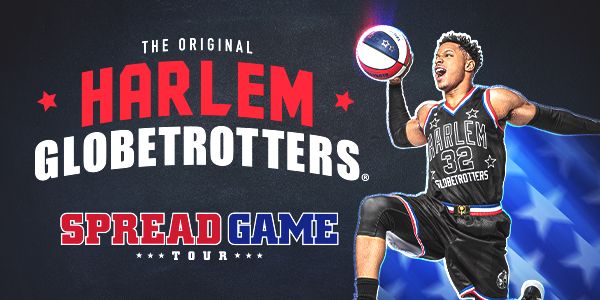 Event date:
Friday, December 31, 2021, 2 pm
The Spread Game Tour is an experience like no other. Ball spinning that defies gravity, innovative dunks and new on-court characters guaranteed to energize the action and bring the laughs. Get ready for full-court fun for the whole family!
Face masks
Individuals are encouraged to wear masks when inside and around other people. Doing so is consistent with current CDC protocols and is a courteous way of demonstrating respect of others. Status may change without notice.
Tickets
$27, $37, $47, $57, $67, $82 & $137 (courtside)
Purchase tickets online through Ticketmaster.
Ages two and over need a ticket for entry.

Ticketmaster and the Nutter Center Box Office are the only authorized ticket sellers for Nutter Center events.
Seating Chart
Doors
1:00 p.m. (pre-event Magic Pass begins at 12:30pm: must have Magic Pass and game ticket to enter early)
Group Sales
To inquire about Group Sales, you can order by calling 215-952-5200 or emailing HGI-Groups@comcastspectacor.com.