Professional Bull Riders Pendleton Whisky Velocity Tour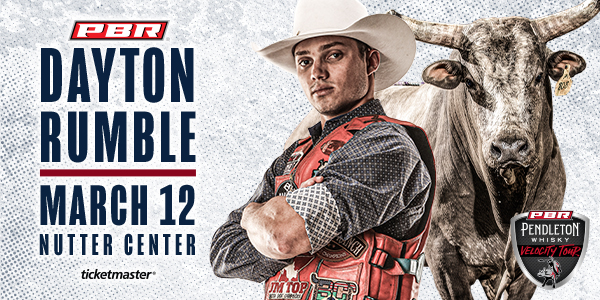 Event date:
Saturday, March 12, 2022, 7 pm
The Pendleton Whisky Velocity Tour is the top expansion series of the PBR, featuring some of the best athletes of the sport going head to head with the fiercest bulls in the country. The PBR will bring all the high-energy sound, lighting, special effects, and edge of your seat excitement that fans have come to expect from the world leader in the sport of bull riding.
Face masks
Individuals are encouraged to wear masks when inside and around other people. Doing so is consistent with current CDC protocols and is a courteous way of demonstrating respect of others. Status may change without notice.
Tickets
Prices: $18, $23, $33, $48, 68, $83 & $103
Purchase tickets online through Ticketmaster.* Ticketmaster and the Nutter Center Box Office are the only authorized ticket sellers for Nutter Center events.
All ticket prices increase $5.00 the day of the show.
*Additional fees apply.
Ages 2 and over need a ticket for entry.
Seating Chart
Doors
Approximately 6:00 p.m.