CORTEO by Cirque du Soleil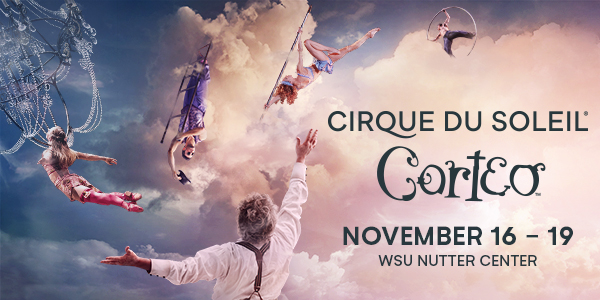 Event date:
Thursday, November 16, 2023, 7:30 pm
Friday, November 17, 2023, 7:30 pm
Saturday, November 18, 2023, 3:30 pm
Saturday, November 18, 2023, 7:30 pm
Sunday, November 19, 2023, 1 pm
Corteo, the most enchanting arena production from Cirque du Soleil is back in North America and heading to Dayton, set to charm audiences.  Since its creation, the show has amazed over 10 million spectators, in 20 countries, on 4 continents. Corteo will be presented at the Nutter Center for five shows only from Thursday, Nov. 16 to Sunday, Nov. 19, 2023.
Corteo, which means cortege in Italian, is a joyous procession, a festive parade imagined by a clown. The show brings together the passion of the actor with the grace and power of the acrobat to plunge the audience into a theatrical world of fun, comedy and spontaneity situated in a mysterious space between heaven and earth.
Tickets
Purchase tickets online through Ticketmaster
*Public general on-sale starts Monday, April 24
Seating chart
Tickets
Approximately one hour prior to event start time